The Climber Finance Report Extension is TED accredited!
We are thrilled to announce that the Climber Finance Report Extension for Qlik Sense now is accredited within the Trusted Extension Developer Program. The TED seal insures you a stable, supported, high quality solution.
Extensions awarded with a TED accreditation have been rigorously tested regarding quality, completeness, and security. Qlik ensures security protocol and data collection compliance which reduces the risk of code failure upon upgrade. The knowledge of the Finance Report Extension being accredited gives you increased confidence to deploy the extension at scale. All accredited extensions are at display on Qlik Market.You will however still obtain the subscription and support directly from us at Climber.
"We are very proud to announce our second TED accreditation! Combining the power of Qlik Sense analysis with the looks of a classic report there has never been a faster or better way to create your P&L in Qlik Sense. Now that the Climber Finance Report is accredited even more customers will trust our extension and enable finance users dynamic reporting capabilities.", says Michael Nordström, CIO of Climber.
What is the Finance Report Extension?
It's the latest must have for any finance department! Our user-friendly extension will fulfil the specific needs of your finance department and make your reporting faster and more informative. You can easily create a P&L, Balance Sheet or Cash Flow report with a "key-info at a glance" look and feel. With the Finance Report Extension, everything related to financial reporting that you could do in QlikView is now possible to accomplish in Qlik Sense.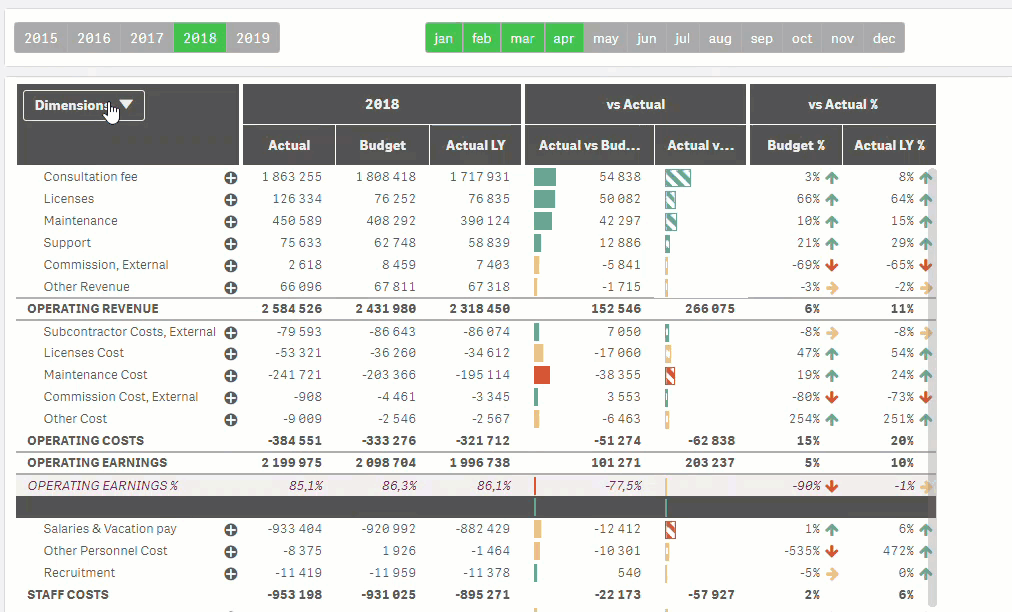 Want to know more?
Contact us!
All the highlights from Qlik's annual convention Qonnections 2019 in Dallas Texas. Watch the Interviews with Qlik's CEO – Mike Capone, Global Head of Data Literacy – Jordan Morrow, Vice President Industry Solutions and Business Value – David Bolton and Research Director – Elif Tutuk. Follow this page and subscribe to the Climber Report on Youtube to stay up to date.
Time to get a 360° on your finances? Sign up today for our 45-minute webinar on June 12th with  Paul van Siclen, Global Director of Industry Solutions – Financial Services at Qlik.
Halvdagsevent den 28 maj i Stockholm om AI, Qlik Sense och Extensions. Vill du bli ledande i ditt sätt att använda data? Då är AI in Action: The Qlik Analytics Tour forumet för dig! Få inblick i hur Qlik Sense hjälper användare på alla nivåer att nå de viktigaste insikterna. Begränsat antal platser!