The Climber Finance Report Extension is TED accredited!
We are thrilled to announce that the Climber Finance Report Extension for Qlik Sense now is accredited within the Trusted Extension Developer Program. The TED seal insures you a stable, supported, high quality solution.
Extensions awarded with a TED accreditation have been rigorously tested regarding quality, completeness, and security. Qlik ensures security protocol and data collection compliance which reduces the risk of code failure upon upgrade. The knowledge of the Finance Report Extension being accredited gives you increased confidence to deploy the extension at scale. All accredited extensions are at display on Qlik Market.You will however still obtain the subscription and support directly from us at Climber.
"We are very proud to announce our second TED accreditation! Combining the power of Qlik Sense analysis with the looks of a classic report there has never been a faster or better way to create your P&L in Qlik Sense. Now that the Climber Finance Report is accredited even more customers will trust our extension and enable finance users dynamic reporting capabilities.", says Michael Nordström, CIO of Climber.
What is the Finance Report Extension?
It's the latest must have for any finance department! Our user-friendly extension will fulfil the specific needs of your finance department and make your reporting faster and more informative. You can easily create a P&L, Balance Sheet or Cash Flow report with a "key-info at a glance" look and feel. With the Finance Report Extension, everything related to financial reporting that you could do in QlikView is now possible to accomplish in Qlik Sense.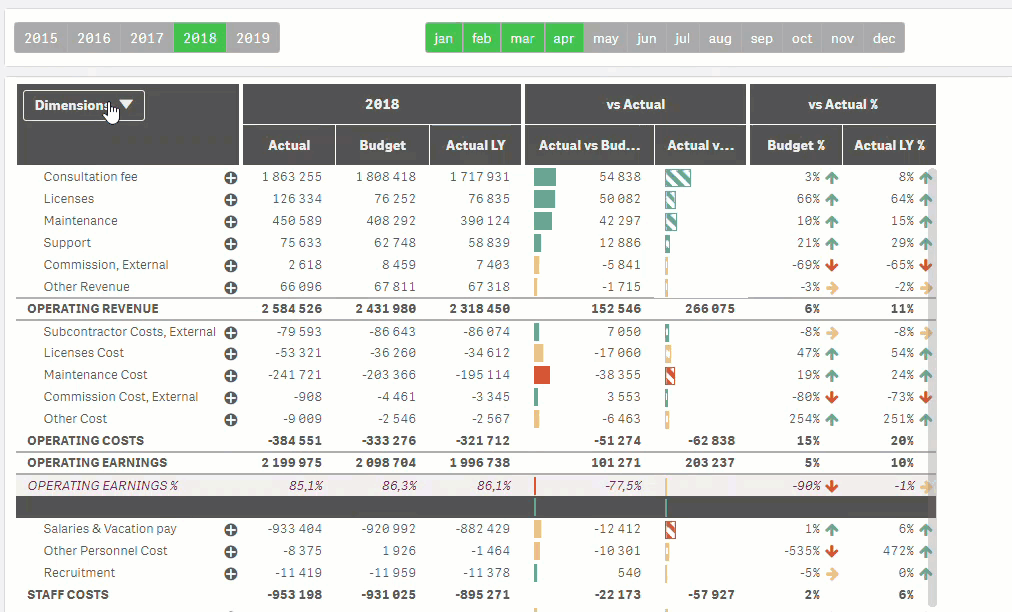 Want to know more?
Contact us!
Don't let data illiteracy hold back on your business performance! Find out how to kick start your journey towards greater data literacy in your organization by joining our 30-minute crash course webinar on April 16 at 13:30 CET with Jordan Morrow, Head of Data Literacy, at Qlik.
We've updated our extensions so they now work with the Qlik Sense February 2019 release. We've added lots of new exciting and useful features in the Custom Report and Finance Report extensions.
Is AI going to rule the world? Is it all moving to the cloud? Didn't get a chance to watch Qlik's BI Trends of 2019, read our highlights here and find out what we think the trends of 2019 will be.