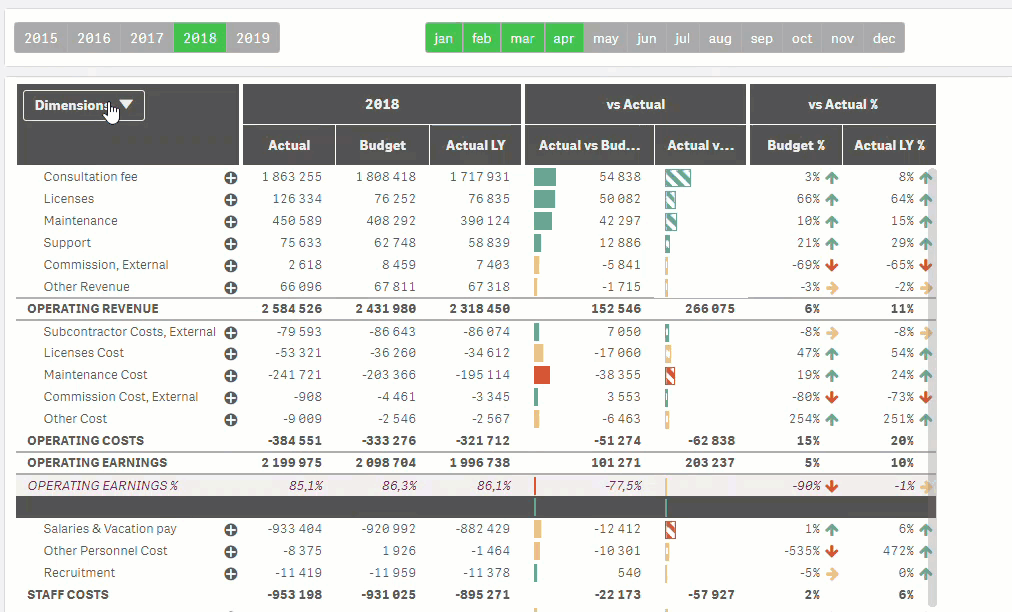 The latest must have: Climber Finance Report Extension for Qlik Sense!
Struggling in Qlik Sense, wishing you still were in QlikView? Everything you could do in QlikView and much more is now possible to accomplish in Qlik Sense, thanks to our user-friendly Finance Report Extension. An extension that will fulfill the specific needs of a finance department! You can easily create a P&L, Balance Sheet or Cash Flow report according to the likes of your CFO. Included is an advanced template for setting up the account structure and a generic script that gets you up and running quickly.
ESSENTIAL FEATURES IN THE CLIMBER FINANCE REPORT EXTENSION: 
Possibility to drill down to individual transactions even in large data sets.
Indicators of your financial posts- stacks and arrows- in your P&L for better visualization.
Export to Excel in different formats, Export to NPrinting.
Add comments, create a hierarchy with chosen views, export your comments to Excel.
This is how it works.
Check out the tutorial!
NEW FEATURES IN THE FINANCE REPORT VERSION 2.0
Adjustable column width for headers.
Improved performance.
Export in NPrinting – See limitations in documentation.
Possible to export to Excel in a different format than shown in the table.
Better support for master items.
Use tags in master items for configuration.
In the Finance Report +, new comments connector and structure for hierarchies with comments.
CHANGES AND BUG FIXES
Settings are reorganized and improved.
New name, The Finance Report was previously called P&L.
What are Climber Extensions?
With Climber Extensions, you will get a complete business solution in Qlik Sense. We have developed a series of extensions for more flexible, user-friendly and transparent solutions in Qlik Sense. We have also developed extensions especially for people in the finance department, such as the finance report, custom report, and KPI extensions. Are you using QlikView today? Extensions are the way to an even better BI solution while still retaining some of the old QlikView functionality.
AVAILABLE BY SUBSCRIPTION
Climber Extensions are available by monthly subscription and fees are based on the number of user licenses in Qlik Sense. The extensions can be used on all applications and by all users. The subscription includes installation, normal product support, updates and any additions we make to the packages over time.
Want to know more?
Contact us!
Demo, pricing or more information? Contact us!
We've updated our extensions so they now work with the Qlik Sense November 2018 release. We've added lots of new exciting and useful features and done some changes and bug fixes. Also, the extensions are now found in groups under Custom Objects in Qlik Sense.
A finance department has specific needs regarding formatting and functionality in tables that differ from other types of analysis. Have you tried to create a P&L or a Balance Sheet within Qlik? Then you will have experienced the limitations of the standard analytic tables. The Finance Report extension helps you fulfill the needs of a finance department!
We are very happy to announce that the Climber Custom Report Extension –  the quintessence of self-service – for Qlik Sense has been accredited within the Trusted Extension Developer Program. The TED program, that Qlik released a few months ago, enables developers to create innovative extensions that expand the value of Qlik Sense.